Jibanananda Das (February 17, 1899 – October 22, 1954; 6 Falgun, 1305 – 5 Kartik, 1361 BCE) was one of the leading modern Bengali poets and writers of the twentieth century. He is one of the pioneers of modernity in Bangla poetry.
Although Nazrul Islam influenced the first poem of Jibanananda das, he became an explorer of the fundamental and different paths from the second poem. He began to gain popularity from the beginning of his death until the end of the twentieth century. When his birth anniversary celebrated in 1999, he became one of the most famous poets in Bengali literature.
The world of traditional nature and mythology of rural Bengal has become iconic in the life of Jibanananda, in which he is known as 'Rupsi Bengal Poet'. Buddhadev Basu has described as the most lonely poet.
Annadashankar Roy called him the 'purest poet'. Many of the critics consider him the chief poet of Bengali literature after Rabindranath and Nazrul.
Jibananda's Banalta Sen poetry book awarded at the Nikhil Banga Rabindra Sahitya Sammelan (1953). The best poetry book received the Sahitya Akademi Award from the Government of India In 1955.
Among the famous poems of Jibanananda Das, Rupsi Bangla, Banalta Sen, Mahaprabhitivi, Bella Abella Kalbella, Best Poetry, etc.
Although Das is primarily a poet, he has authored and published several essays. However, before his death in 1954, he wrote 21 novels and 126 short stories, none of which published in his lifetime. His life spent in extreme poverty.
During the latter part of the twentieth century, his influence on Bengali poetry has seamlessly printed.
Birth and childhood
Jibanananda Das was born on 18 February 1899 in the city of Barisal under the Bengal Presidency of British India (now Bangladesh). His ancestors were residents of Bikrampur pargana in the Dhaka district of Bangladesh. His grandfather Sarvananda Dasgupta (1838-85) relocated from Vikrampur to Barisal.
Sarvananda Dasgupta was a Hindu by birth; Later, he was initiated into Brahma. He participated in the early stages of the Brahma Samaj movement in Barisal and was widely praised for his humanitarian work. Jibananda's father Satyananda Dasgupta is the second son of Sarvananda.
Jibanananda's mother, Kusumkumari Das, was a householder, but he wrote poems. His well-known poem Ideal Boy (when the boy will grow up in our country, or grow up to work or grow up in words) is still a text for the children. Jibanananda Das was the eldest child of the parents; His nickname was Milu.
His brother Ashokananda Das was born in 1908 and his sister Sucharita Das was born in 1915. Jainandan's childhood education started at home, as his father was opposed to attending school at an early age. In the morning, the Upanishads listen to the recitation of the father's voice in the voice of his father.
Although shy, he had a passion for sports, gardening, traveling and swimming. He has been to many places with an uncle since childhood. Once in childhood, you got into a difficult illness. Mother and maternal grandmother traveled to places like Laxmou, Agra, Delhi, along with poet Chandranath of the song of laughter.
Although his title at birth was "Dasgupta," in the early thirties, Jibananda started writing only Das, excluding "Gupta."
Education
In January 1908, Jibanananda Das, an eight-year-old, was admitted to the fifth grade at Brajmohan School. While in school, he started composing in Bangla and English. He also tended to paint his pictures at the time. In 1915, Brajmohan passed the Matriculation (now secondary or SSc) examination in the first division from the school.
After two years, repeat the previous results in the Intermediate (Higher Secondary) examination from Brazmohan College; He then left Barisal for admission to Calcutta University. In 1919, he received his B.A. degree with Honors in English from Presidency College, Kolkata. In that year, his first poem published in the Baishakh volume of the Brahmaist magazine.
The name of the poem was Varsha Abahn. The poet's name not printed in the poem, only the honorable Sri word written. However, his full name printed on the anniversary index of the magazine's year: Sree Jibanananda Das, B.A.
Literature and life struggles
At the beginning of puberty, Jibanananda's poetry began to develop. When Deshbandhu Chittaranjan Das died in June 1925, Jibananda wrote a Brahminical poem called 'Deshbandhu Prayan' in his memory, which was published in Bangabani.
The poem later replaced its first poem, Jhora Palak. Reading the poem, poet Kalidas Roy commented, "This Brahmin poem must have been written under the pseudonym of an established poet". It was only in 1925 that his first essay was published in three consecutive volumes in the Brahmavadi magazine, at the shrine of the late Kalimohan Das.
Reading the poem, poet Kalidas Roy commented, "This Brahmin poem must have been written under the pseudonym of an established poet". It was only in 1925 that his first essay was published in three consecutive volumes in the Brahmavadi magazine, at the shrine of the late Kalimohan Das.
In the same year, when the poem 'Neelima' published in Kolol magazine, it attracted the attention of many young poets. Gradually his writings appeared in various literary journals in Kolkata, Dhaka and other places; Among these were the well-known magazines of the time, Kallol, Ink and Pens, Pragati etc.
In 1927, the first poetical poem of the poet published by Jhara Palk. From that time onwards he started writing 'das' instead of his family surname 'Dasgupta'. He lost his job at City College, just months after the first poem published. Student dissatisfaction with the college centered on religious festivals, and as a result, the college's student enrollment rate dropped dramatically.
He was the youngest of the college's teachers and the first troubled college student fired him. The deportation was the cause of a long life-long mood. Even his poetry faced critical criticism in Calcutta literature.
The renowned literary critic of the time, poet-literary poet Sajikanth Das, inspired by the ruthless criticism of his writings in Saturday's letter. The poet joined Prafulla Chandra College in the small town of Bagerhat as there was no work to do in Kolkata. However, he returned to Kolkata only two months later. At that time he was on the board of the Presidency. He was in dire financial distress due to lack of jobs. He worked as a home teacher for a living and earned a little from writing.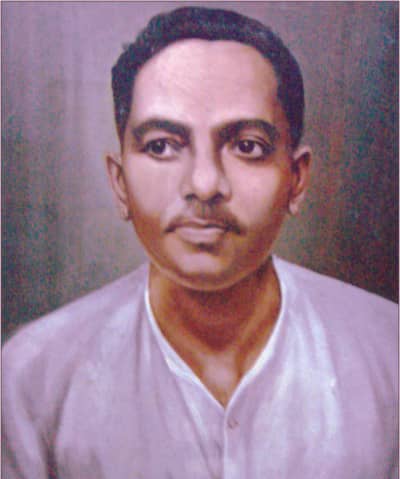 At the same time, he was looking for a job in various educational institutes. In December 1929, he joined Ramayash College in Delhi as a professor. Here, his tenure is only four months. On May 9, 1930, he married to the goddess of the labyrinth.
Jibanananda das married in Dhaka city, Rammohan Library of Brahma Samaj adjacent to Sadarghat in Old Dhaka. Lavanya Gupta was studying at Eden College, Dhaka. At the wedding of Jibananda Das, poet Buddhadev Bose, Ajit Kumar Dutt was present. She did not return to Delhi after marriage.
Then for about five years, Jibananda was inactive. Occasionally worked as an agent for an insurance company; Did business with borrowing money from younger brother, But none of this has lasted. In the meantime, the unemployment of Jibananda was not the cause of family distress as his father was alive and his wife was living in Barisal.
In 1931, the first child of the poet, Manjushri was born. About that time, in his camp, the poem published in the Identity paper edited by Sudhindranath Dutt and at the same time it widely criticized in Calcutta literature.
The apparent content of the poem was deer hunting on a hot night. Many read this poem and identify it as obscene. He wrote several short stories and novels during this period of his unemployment, struggles and frustrations; – but did not publish them in his lifetime.
In 1934, he composed a series of lyrics, which later formed the main part of his Rupsi Bangla poem. Neither did these poems rejoice. After his death in 1954, he collected poems in 1957 to publish the Rupsi Bangla poem by his sister Sucharita Das and poet Gehendra Guha, a well-known poet of Mayukh.
Love and marriage
A young resident of Jibanananda Para fell in love with Shobhana, the daughter of his uncle Atulchandra Das. He dedicated his first book of poetry, Shovona, without mentioning it.
He did not try to marry her as it was not socially acceptable for her to marry him. In his literary notes, he is referred to as Y. Shortly after marrying Lavanya Prabha Das (Naked Gupta) in 1930, a personality conflict began and He gave up hope of a happy married life.
The gap with the wife never narrowed. Although Jibanananda was close to death after the tram accident on October 14, 1954, Lavanya Prabha did not meet her husband more than once in her death. At that time, he was busy making films in Tollygunge.
Jibanananda and Bengali poetry
Influence of Tagore
As of 2009, Bengali is the mother tongue of more than 300 million people living in Bangladesh and India. Modern-day Bengali poetry has emerged on a broad basis, written by Michael Madhusudan Dutt (1824–1873) and Rabindranath Tagore (1861–1941).
Tagore ruled Bengali poetry and literature for almost half a century, inevitably influencing contemporary poets. When Tagore awarded the Nobel Prize in Literature for Gitanjali in 1913, it attracted the international literature of Bengali literature.
The poet himself composed poems in English with the title of Song Offer. Bengali poetry has come a long way since then. It has developed around its own tradition; It has responded to the poetry movement around the world and It takes on different dimensions in different tones, colors and summaries.
Contemporaries of Jibanananda
In Bengal, attempts to break down the Tegrian worldview and stylistics began in the early twentieth century. Poet Kazi Nazrul Islam (1899–1976) popularized himself with patriotic themes and melodies. However, many poets consciously tried to attribute Bengali poetry to contemporary European and American trends, beginning in the late nineteenth century with the essence of emerging global modernity.
The five poets who are particularly acclaimed for creating Tagorean poetic illustrations and contributing to modern poetry are Sudhindranath Dutta (1901-1960), Buddhadev Bose (1908-1974), Amiya Chakraborty (1901-1986), and Jibanananda Das (1899–1954). ) And Vishnu Dey (1909–1982).
In twentieth-century Bengali poetry, the contours of modernity were drawn by these five pioneers and a few of their contemporaries. However, not all of them survived the test of time. Of these, the poet He could hardly understand in his lifetime.
He received very little attention and some did not understand him. Readers, including his contemporary literary critics, also complained of deviations in his style and mannerisms.
At various times he faced ruthless criticism from the top literary figures of his time. Even though Thakur praised his poetic skills, he made strange remarks in his writings. Yet, destiny saved a crown for him.
Growth of popularity
In the last half of the twentieth century, Jibanananda Das emerged as one of the most popular modern Bengali literature poets. Apart from popularity, He presented himself as an extraordinary poet who is still unknown. It took time for his unfamiliar poetic compositions, word choices, and thematic choices to reach the readers' hearts.
Towards the end of the twentieth century, Jibanananda's poetry became a defined core of modernity in the twentieth century Bengali poetry. His early poems undoubtedly influenced Kazi Nazrul Islam and other poets like Satyendranath Dutt, long before Jibanananda overcame these influences and created a new poetic composition. Buddhadeb Bose was the first to acknowledge his style and thematic novelty.
However, as his style and composition matured, his message became blurred. Readers, including critics, began to complain about readability and questioned his sensitivity. After his accidental death in 1954, only one reader came forward who was not only comfortable with Jibanananda's style and composition but also enjoyed his poetry.
The ambiguity of his poetic message is no longer questioned. After his birth centenary was celebrated in 1999, Jibanananda Das was one of the most popular and well-known poets in Bengali literature.
Even in the late post-modern era of the twentieth century, He was relevant to new flavors and stimuli. This was possible because his poems had many cycles of change and later poems contain modern, post-modern elements.
Poetics of Jibanananda Das
In the early 20s, Das started writing and publishing. He published only 269 poems in various journals and magazines during his lifetime, of which 16 collected in brief from 162 Jhara Palak to Bela Obela Kalbela. Many of his poems have published from manuscripts scattered over many decades at the initiative of his brother Asokananda Das, sister Sucharita Das and nephew Amitananda Das and through Dr. Bhumendra Guhar.
By 2008, the total number of Jibanananda's known poems was about 800. Numerous novels and short stories were also discovered and published at the same time. Jibanananda Pandit Clinton B. Silly called Jibanananda "the most cherished poet of Bengal since Rabindranath Tagore".
To many, on the other hand, reading Jibanananda Das's poems is like stumbling into a maze of minds, as one would say of the 'unreal' people on campus working hard. Das's poems are sometimes the result of deep feelings painted in images that are not significantly comprehensible.
Sometimes the connection between the sequential lines is not obvious. Das broke the traditional circular structure (beginning-middle-edge) of the poem and the linear sequence of words, lines, and stanzas patterns. As a result, the thematic meaning is often hidden behind a rhythmic narrative that requires careful reading between the lines.
Prose style
During his lifetime, Jibanananda was the only poet who occasionally wrote literary articles on request. A large number of novels and short stories discovered shortly after his death. Thematically, the stories of Jibanananda stories are largely autobiographical.
Forms its own time perspective. In poetry, he allowed it to be brought into his fiction while subduing his own life. Structurally his fictional works are more based on dialogues than the author's narration. However, his prose shows a unique style of compound sentences, the use of uncovered words and a general pattern of punctuation.
His essays give evidence of a heavy prose style, capable of expressing complex but complex analytical statements. As a result, his prose was very compact, with deep messages in a relatively short space of time.
Recognition and criticism
Although he was known as an extraordinary poet in his lifetime, he could not achieve fame. His apathy is also responsible for this; He was a beaver. However, immediately after his death, he was recognized as one of the pioneers of modern poetry in Bengali. Many books have been written and are still being written on the life and poetry of Jibanananda Das in Bengali.
Apart from this, Clinton B. Silly has written about him in English in a book called A Poet Apart. In addition to English, his poems have been translated into several European languages, including French. Although he is best known as a poet, the huge number of manuscripts that have been unearthed since his death in 2009 include 14 novels and hundreds of short stories.
Death
He was injured in a tram accident at Baliganj in Calcutta on October 14, 1954. Trapped in a tram catcher, his body was crushed. The bones of the neck, thighs and ribs were broken. Chunilal, the owner of a nearby tea shop, and others rescued Jibanananda, who was critically injured. He was admitted to Shambhunath Pandit Hospital. During this time many young poets, including Dr. Bhumendra Guha, tried their best to treat Jibanananda. Poet-literary Sajanikanta Das took special initiative in this regard. At his request, the then Chief Minister of West Bengal, Dr. Bidhan Chandra Roy, came to see the poet and directed for the proper treatment of the injured poet, although the treatment did not improve much.
However, the condition of Jibanananda gradually became complicated. Eventually the poet contracted pneumonia. All the efforts of the doctors and nurses failed and he died on 22nd October, 1954 at 11:35 pm at the Shambhunath Pandit Hospital in Calcutta. Some, including Abdul Mannan Syed, have speculated that suicidal ideation was the root cause of the accident.
Jibanananda researcher Dr. Bhumendra Guha thinks that worldly helplessness overwhelmed the poet mentally and emptied his desire for life. The thought of death stuck in the poet's head. He often thought of dying in a tram accident. In the last one hundred years, the number of deaths in tram accidents in Kolkata is only one. He is none other than the poet Jibanananda Das. But according to eyewitnesses, the poet was crossing the tram line with two bunches of dab in both hands. Crossing the tram line on the way home with two bunches of dabs in both hands with the decision to commit suicide is not a very acceptable argument.
FAQs
Who is Jibanananda Das?
Jibanananda Das (BN: জীবনানন্দ দাশ) is probably the most popular Bengali poet. He is also called  "Rupashi Banglar Kabi". Jibanananda, a Bengali poet, writer, novelist and essayist, is often recognized as the leading poet of Bengali literature after Rabindranath Tagore and considered to be the greatest modern poet of Bengal. In his lifetime he was vaguely recognized.