When you check out red carpet events like the BAFTAs, MOBOs, Grammys and Oscars, you might think that there is a real shortage of celebrities who wear glasses. Well, that's just not the case. Celebrities are human like the rest of us and some of them have equally bad (if not worse) eyesight naturally. So, behind the scenes of course they wear glasses!
Happily, this is all beginning to change as glasses-wearers are making themselves known in the media's eye. Here are some proud glasses-wearing celebrities who look even better with glasses than without.
Priyanka Chopra
When you're a former Miss World like Priyanka Chopra Jonas, it's a good guess that you'll be able to pull off a range of eyewear trends. The model-turned-Bollywood-turned-Hollywood-filmstar-turned-producer-turned philanthropist flaunts her spectacles on social channels and out on the town at red carpet events. They may look great on her, but she has a team of fans on social media helping her define her signature glasses style.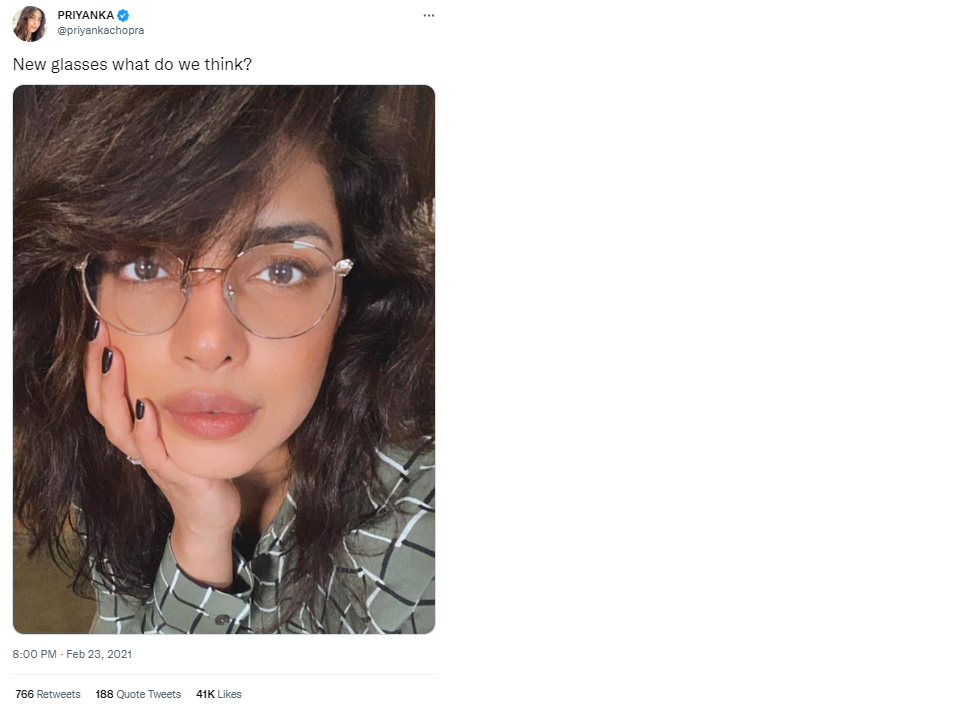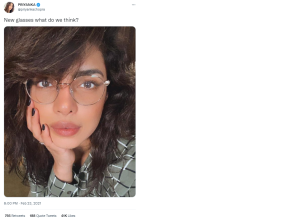 Source: Twitter
Arianna Grande
*WARNING: SPECULATION* I doubt many people would be surprised if Arianna Grande started the non-prescription fashion glasses eyewear trend. Although she may indeed be the real-deal, she pulls off a pair of prescription specs like no-one else. She channels the cartoon-cute glam that has made her iconic with oversized glasses in round, butterfly, cat-eye and clubmaster styles among her favourites. She is the classic example of a heart-shaped face that looks right at home in winged frames – onstage as well as the red carpet.
Ryan Reynolds
Ryan Reynolds is a surprising heartthrob and definitely a conversation starter. There are two things that are less controversial though: he is a charming media figure and the man can wear a pair of glasses. Just scroll through his Instagram to catch a glimpse of his eyewear collection – inclusive of clubmaster, square, round and Wayfarer favourites. Ryan is our favourite eyewear chameleon!
Meryl Streep
There's no doubt that Meryl is iconic – with or without glasses. She has been sporting stylish eyewear from Death Becomes Her to Mamma Mia, and she does so with finesse. According to an article in The New York Times, her unique ability to don a pair of glasses has even become a feature throughout her acting career. She is another heart-shaped face beauty who only gets better with age. It's so nice to see her bring eyewear back to the top of the fashion agenda on the red carpet too!
Janelle Monae
If you've seen Janelle Monae's Turntables [Emotion Picture], aside from having a lot to unpack in terms of content I bet those round crescent bridge glasses didn't go unnoticed either. While Monae is a pioneer on many fronts, theirs is a style to keep tabs on. They are a prime example of using prescription eyewear as a fashion statement, turning it from a vision necessity into a whole new USP.
Iain Wright
At this point, who even remembers that Ian Wright was a 9-time goal winning striker for England in the 90s? Now, he is the silver fox TV personality who gets his style stolen (a lot). This is a man who knows his way around full-rimmed round glasses and he improves his eyewear game year on year.
Tom Holland
Does anyone else find it weird that Tom Holland doesn't wear glasses as Peter Parker in Spider Man? Well, once you see how great he looks in a square frame, that might answer a few questions. Perhaps he simply looks a bit too good in glasses to be believable as the gawky teen character!
The actor is a chameleon, switching from neighbourhood teen to A-list trim in a flash. Unlike DC's Super Man he uses his glasses to dress up a red carpet look, rather than to blend into the background. We have also seen Tom sport round and Wayfarer styles in clear and patterned acetate or metal at events and on the screen.
Jay-Z
Probably more famous for wearing sunglasses indoors, the Music Hall of Famer has been sporting regular prescription glasses for even longer. Jay-Z has rarely been out of the limelight ever since. Luckily for him during busy periods and down days he can look just as dashing in a full-rim frame with clear lenses as he does in his signature designer shades, or without.
Post Malone
The most unlikely of fashion icons, Post Malone really does rock wearing glasses. Also known as the nice boy of the music industry, Posty has always made a point of doing things his own way. Compromising on comfort and clear vision has clearly not been on his agenda – and why would it be when he looks so sharp in a plain pair of square shaped glasses? He has been known to try out a series of fashion tints in yellow, pink, blue and purple lenses, too.
Kylie Jenner
We have seen Kylie grow into the business-tycoon-fashion-mogul that she is today. In fact, when she first started wearing glasses she proudly broadcast it over Snapchat in 2018 for all to see! Now, her prescription frames wardrobe is something to behold. Even on her dressed-down days you can imagine she will be head-to-toe in designer apparel – and she doesn't forget the glasses.
If you have a celebrity twin, take inspiration and click here to find the best prescription glasses frames for you.