Lalon also known as Fakir Lalon Shah, Lalon Shah, Lalon Fakir or Mahatma Lalon. Fakir Lalon(born 1772 – died: October 17, 1890) was a Bengali man of many talents; Who is also known as Fakir Lalon, Lalon Sai, Lalon Shah, Mahatma Lalon and so on. He is concurrently a religious Baul practitioner, humanist, social reformer and philosopher.
Fakir Lalon Shah was a songwriter, composer and musician of numerous songs. Lalon is regarded as one of the pioneers of the Baul song and also referred to as the 'Baul-Emperor.' It was through his songs that the Baul song gained popularity in the nineteenth century.
Lalon Shah was a humanitarian practitioner. Who removed humanity from all forms of religion, caste, tribe, and gave humanity the highest place. It is from this limited belief that he composed his songs. His songs and philosophy have influenced many people of the world, including Rabindranath Tagore, Kazi Nazrul and Ellen Ginsberg, among many renowned poets, literary, philosophers, intellectuals.
Although his songs are mainly Baul songs, in interest to the Baul community, these songs have repeated by many musicians throughout the ages. Gandhi's 25 years ago, the Indian subcontinent for the first time, the "Mahatma" was the title.
Biography
No details about Lalon Shah's life are available. His most notable source is 288 songs composed by himself. But he did not leave any information about his life in any of Lalon's songs, but in some songs, he referred to himself as "Lalon Fakir".
Fifteen days after his death, an editorial in the Hittakari newspaper published from Kushtia states, "It is difficult to find any material for his biography. He didn't say anything himself. The disciples could not say anything forbidden or ignorantly. " There is a debate about where Lalon was born. Lalon himself never disclosed it.
Fakir Lalon Shah was born in 1774 in Harishpur village of Harynakundu Upazila of Jhenaidah district in the then undivided Bengal (now Bangladesh). Some Lalon researchers think Lalon was born in the village of Bharara under the Tapra union of Kumarakhali police station in Kushtia.
Many disagreed with this opinion. In an article in the monthly Mohammadi newspaper published in the month of Ashar in 1348, Lallan was mentioned in the village of Phulbari in Jessore district. According to a news article published in the newspaper Hitakari, Lalon went out of pilgrimage at a young age and was suffering from kidney disease along the way.
Then her companions abandon him as a deceased person and go to their destination. Mallam Shah rescued Mumurshu Lalon, who has swept away in the Kaliganga River. Malam Shah and his wife, Matijan, took him home and healed him. Then Lalon was baptized by him and started living with his wife and disciple at Kuria in Kushtia.
Smallpox disease cherish lose an eye. In Chowria, he met and was influenced by philosopher Siraj Sai. Besides, it was reported that Lalon was a samurai. He had little land and houses. Lalan was skilled in riding and used to ride to various locations through old age.
Religious Belief
There is considerable disagreement among researchers about the belief in the religion of Lalon, which existed even in his lifetime. Basant Kumar Pal, the first Lalon biographer in the expat journal's Mahatma Lalan article published after his death, said: "I am unable to say whether Saji is a Hindu or a Muslim."
According to several sources, during Lalon's lifetime, Lalon was not seen to observe any religious rituals. Lalon had no formal education. In his pursuit, he learned about both Hinduism and Islam. Its identity is found in the songs he composed.
The article in the diaspora says Lalon had good relations with people of all religions. Many considered him to be a Muslim because of his contact with Muslims. When Hindus saw him discussing Vaishnavism again, he was considered a Vaishnava.
Lalon was a humanist and he did not believe in discrimination of people according to religion, caste, creed, color, gender, etc. In an article in the monthly Mohammadi, published in the month of Ashar in 1348, Lalon's birth was mentioned in a Muslim family. In other sources, his birth is mentioned in the Hindu family.
Fakir Lalon Shah cult novelist Sunil Ganguly said, Lalan was religious but was not interested in any particular religion. He broke the bonds of all religions and gave humanity the highest place in life. "
While introducing Lalon, Sudhir Chakraborty writes, "Kangal Harinath knew him, knew Mir Musharraf, was traveling in Thakur's houseboat, writer Jalodhar Sen or Akshay Kumar Maitreya had seen him face to face, heard the song, but could not know the caste, race or religion of Lalon."
The question of rearing a song: "When will such a society be created?
On the day Hindu Muslims are Buddhists
The tribe does not. "
According to some renowned followers, such as Montu Shah, he was not a Hindu or a Muslim, but he was a follower of a new religious doctrine called Ohedaniyat. There are many other religious doctrines, including the Sahajia doctrine of Buddhism and Vaishnavism, and Sufism among the Ohadianiyat.
Many followers of Lalon refer to Lalon's songs as the words of this spiritual doctrine. He was originally a secular and a believer in human religion.
Lalon arena ( lalon shah mazar )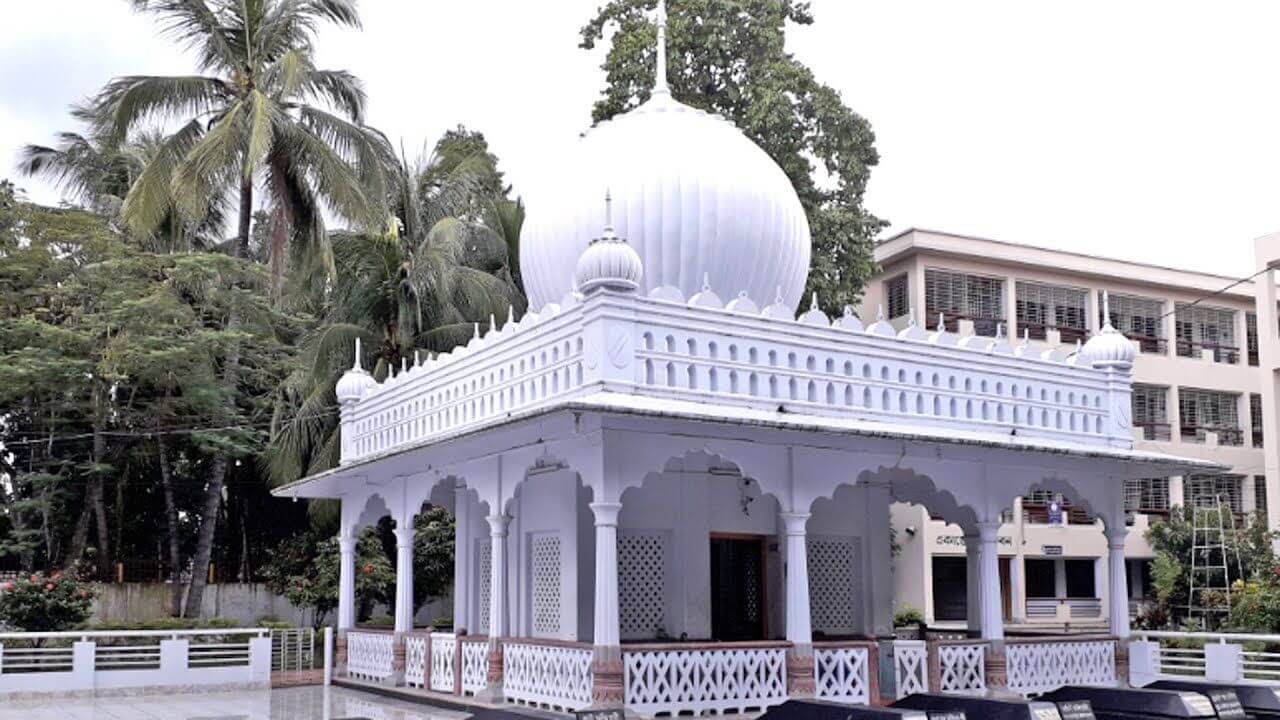 Fakir Lalon Shah built an arena (Lalon shah Mazar) in Kuria, Kumarakhali Upazila of Kushtia, where he taught his disciples the principles and spiritual teachings. His disciples used to call him "Sai".
He used to hold a Bhandara in the arena every winter. Where thousands of disciples and people of the community gathered, there was music and discussion.
In many places in Chittagong, Rangpur, Jessore, and the far west, many people were disciples of Lalon Fakir; It is heard that the number of his disciples was about ten thousand.
Speech of disciples
Among Lalon's disciples were Panju Shah, Bholai Shah, Malam Shah, Sheetal Shah, Moniruddin, from whom Rabindranath Tagore knew about culture and folklore. His succession relationship with Lalon Sanji-Latika is as follows: Fakir Lalon Shah, Bholai Shah, Kokil Shah, Laban Shah alias Abdur Rab Shah, then Fakir Nahir Shah. Fakir Nahir, the chief caliph of Abdur Rab Shah, was at once a spiritual guru, a teacher of sentimental music and a music collector.
Relations with Tagore's family
Various sources are available in connection with Jorasanko's Thakur family in Kolkata. His residence was in the zamindari of the Thakur family in the Brahimpur pargana and he was the subject of the Thakur-zamindars. In the nineteenth-century educated society, Thakur's family played a major role in his promotion and acceptance.
But Lalon's clash with these Thakurs once took place. Harinath Majumdar, a Kangal of Kumarakhali of Kushtia in British India, used to publish a magazine called Grambarta Prakashika. In a number of such sources, high-ranking English officials came forward in a direct inquiry into the matter by publishing news and information about the Thakur-zamindars' oppression.
Due to this, Thakur-Zamindars became angry at Kangal Harinath Majumder. When Lathiyal sent to punish him, Lalon armed with his disciples confronted the zamindar lathiyals and the lethal forces fled.
Since then, Fakir Lalon Shah has protected Karnal Harinath in various ways. Jyotirindranath Tagore, brother of Rabindranath Tagore, made his only sketch during Lalon's lifetime.
He penned this pencil sketch, which stored in the Indian Museum, on May 5, 1889, in his boat in the Padma, the year before Lalon's death. Although many claim that the original appearance of Lalon not revealed in this sketch.
Death
Lalon Shah died on October 17, 1890, at the age of 116, in his field at Chowriya in Kumarakhali, Kushtia. About a month before his death he suffered from stomach problems and glandular problems. He never ate anything except milk when he was ill.
At that time he wanted to eat fish. He played music until 5 in the morning, and at one point told his disciples: "I am going" and shortly thereafter he died. There was no religious practice of Hindu or Muslim after his death because of his directive or desire.
According to his advice, his tomb erected in a house in his arena at Chowriya. Even today, bowlers from all over Bangladesh meet at Cheuriya in October to pay their respects to Lalon. Twelve days after his death, he was first called "Mahatma" in an essay published in the 'Hitakari', edited by the then peer-reviewed journal Mir Mosharraf Hossain. The author of the composition is Raichen.
Lalon Shah's Philosophy
In Lalon's song, people and his society were the main ones. Lalon believed that one-minded people lived among all people. And people with that mind can be found through self-realization. Inside the body lives the man of the mind or what he calls the unknown bird. The search for that unfamiliar bird is achieved by reaching the transcendental world by pursuing the earthly body. And this is the benefit of 'Nirvana' or 'Moksha' or 'Mahamukti' in Baul theory. He has placed humanism above all else.
In many of his songs, the context of this man of mind has been mentioned. He believed that man of mind has no religion, caste, caste, gender, creed. The visible body of a man and the invisible sense of man are separated from each other, but the mind resides in the body. God lives in the minds of all people. Lalon's philosophy cannot be attributed to any religious ideology. Lalon considers the human soul as a mysterious, unknown and untouchable entity. In the song Achin Pakhi Inside the Cage, he likens the mind's inner being to a bird that can easily come and go in the cage-like body but still cannot be kept captive.
During Lalon's time, all kinds of oppression, lack of protest of people, religious orthodoxy-superstition, greed, self-centeredness stood in the way of the development of the society and society of that time. He has questioned the various superstitions of society through his songs. And that is why Lalon's struggle attracted many decent landowners, historians, editors, intellectuals, writers and even the illiterate common people of the village.
He composed about two thousand songs in spiritual style. His simple-sounding music reveals the mystery, humanity and non-sectarian outlook of human life. Several of Lalon's writings indicate that he was empathetic about religion-tribe-caste-community. During British rule, when ethnic divisions between Hindus and Muslims rose, Lalon was a vocal opponent. He did not believe in any difference between people. People are the core of the humanist Lalon philosophy. He chose art to promote this philosophy. Many have tried to introduce Lalon with a communal identity. Some have tried to teach him as a Hindu, some as a Muslim. In Lalon's songs, he presents himself as a fakir (Arabic "saint").
Rabindranath Tagore says about Lalon:
We should all pay attention to what a Baul devotee named Lalon Fakir wanted to say by combining Hindu, Muslim, Buddhist, Jain religions.
Although he once called Lalon 'Fakir', he later called him 'Baul' again, where Baul and Fakir mean conflicting.
Fact Check
We strive for fairness and accuracy of Fakir Lalon Shah Biography. If you observe something that doesn't look right, contact us!